Certifications
There have been several times in my life when I was falsely accused or my reputation was assaulted by some unscrupulous individuals who had dishonest motives, perhaps seeing me as a threat or obstacle to their own desires.  Fortunately, on each occasion I was successful at defending my honor, my personal and professional reputation.  The lessons learned have been that the truth, documented and irrefutable facts, are the best weapons against slander and lies.
First, it is important that I begin this discourse by stating that I do not claim to be a man without error or mistake.  Although I have reason to be proud for the major choices in my life, no man can ever present himself as perfect.  With that said, let it be clear that I have attempted to live my life honestly and with integrity.  I have learned to admit my mistakes, pay for them, learn from them so as not to repeat the same, and then move forward positively with my life, striving for quality and fullness.
It is my intention that the following information be a testimony to my reputation, credibility, and integrity as a professional in every area of work I've performed and also as a well respected individual.
Hanshi Ric Pascetta                                                                             July 13, 2011
INTRODUCTION
In the course of my life I have chosen to work in many fields, each giving me a different experience and adding to the fullness of my life.  Although Martial Arts has been both my primary passion and primary profession, in particular, the fields of Law Enforcement and Private Security have also been quite interesting and challenging.  What is relevant here is that the latter two of these fields place any participant under great scrutiny regarding both their professional and private behavior.
The documents and letters presented here will demonstrate a lifetime of service to the community and personal integrity.  They will show that not only has Hanshi Pascetta been approved for numerous government licenses required to do this work, but he has also received high recognition for the ethical and professional quality of his performances in all these areas.  
HISTORY
Throughout a long history and meritorious career,Hanshi Ric Pascetta has performed on a World Class level whether it be his martial arts activity or one of the other areas of study and performance that have enriched his life.  The following is merely a brief glance of the many honors and recognitions that exemplify a life dedicated to excellence, honor, and integrity.
First, in 1975 Hanshi Pascetta graduated as "number one" in his class, with the highest honors, from the New Jersey State Police Academy (the top police academy in the United States).
During his service as a full time police officer his performance was exemplary to the level that he was the first Police Officer in the Gloucester County to be awarded a "Silver Lifetime Member" status in the Policemen's Benevolent Association (PBA).
The PBA is a national organization that represents police officers and one must be an active, full time police officer to remain as a member.
Since the late 70's, Hanshi Pascetta has been licensed by the government as an Instructor of Law Enforcement and has since, taught successfully and prominently in numerous police academies.  Even after leaving full time work as a Police Officer, Hanshi Pascetta has been licensed to carry a firearm and those licenses are active, even to date.  In the United States, any individual who is permitted to be issued such licenses must undergo thorough investigation and updated periodic training to renew these licenses.  No criminal is ever permitted to own or carry a firearm.
On the right you will find a letter of confirmation from the Chief of Police regarding one such routine investigation of hanshi Pascetta's background in the year 2000.  This investigation was a requirement for attendance to one of the numerous Executive Protection (professional bodyguard) schools that Hanshi Pascetta attended and where he later became an instructor.
For a period of five years, Hanshi Pascetta participated in the training of the US Marshal Service.
This is a federal law enforcement agency that is responsible for the protection of the federal courts and judiciary along Fugitive Recovery, Warrant Service and other federal law enforcement duties.  Here you will see one of the many Certificates of Appreciation issued in recognition of the training given by Shihan Pascetta.  This particular occurrence (in 2000) was for a seminar in weapons disarmament.
In 2001, Hanshi Pascetta became part of American history after the terroristattack of the Twin Towers in NYC on September 11, 2001.  This information was kept confidential for many years due to the nature of the event, however, with the death of Osama Bin Laden it now has become public and some of the information can be spoken about.  After the terrorist attack perpetrated by Osama Bin Laden, for a period of several weeks no airplanes were permitted to fly over US airspace. However, with special permission from the government a flight was approved to transport family relatives of Bin Laden from various cities in the USA out of the country.
Later, the Bush administration became criticized for this approval and there were
investigations that proved that nothing improper was done.  On that flight that began in Los Angeles, then continued to Orlando, Washington, D.C., Boston, MA, Nova Scotia, Iceland, Paris, FR, Geneva, and finally Saudi Arabia were 25 family members of Bin Laden.  Also aboard this flight were 4 security agents.  One of those agents was Hanshi Ric Pascetta.  This story is also written about in the bestselling book, "The Bin Ladens: An Arabian Family in the American Century" by Steve Coll, where there is also mention of Hanshi Ric Pascetta.
On the left you will find the passenger list for that fateful flight and note the last name listed.  On the right you will find a private photo taken from that plane at the airport in Paris. On the tarmac you will see Hanshi Pascetta , other agents, several brothers from the Bin Laden family, and the French Police.
This was simply one of many missions performed by Shihan Pascetta in the capacity of an Executive
Protection Agent for various diplomats, corporate executives, and celebrities.  It should be evident the level of trust and credibility necessary for anyone to be chosen to perform such work and activities, and pass the scrutiny of the American government (FBI, INS, ICE, CIA, etc.) during such critical times.
Annually for four years, Hanshi Pascetta also worked for the organization of Arnold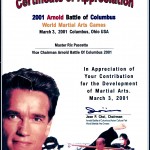 Schwarzenegger's Fitness Festival in Columbus, Ohio.  He first began there in the capacity of a commentator interviewing the various participants in the Martial Arts competitions, performed the first live web-streaming broadcasts, and participated in the video productions.  By the last year, 2001, he was appointed the Vice Chairman of Arnold's Battle of Columbus. 
He was personally responsible for engineering the merger between Master Choi's larger martial arts event and Arnold's event that lead to the expansion and more prominent role played by martial arts in Arnold's Fitness Festival (an event drawing over 30,000 attendees).  Here you will find the appreciation letter given to "Vice Chairman Pascetta" by "Chairman Choi".  In the photo you will see Hanshi Pascetta personally awarding Arnold Schwarzenegger, a custom made sculpture that Pascetta commissioned a professional sculptor to design for Arnold in recognition for his contributions to promoting the martial arts.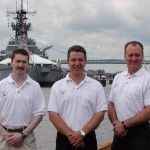 In 2002, Hanshi Pascetta was part of a special team that did the security
assessment and advisory for the Port Security Plan for the Port of South Jersey. This through and professional assessment was subsequently widely used as an early reference by the state Homeland Security officials.  Here you will find a letter of commendation from the Director of Operations for Aegis Consortium, the company performing the assessment.
Hanshi Pascetta has also been qualified and functioned in the capacity of "Expert Witness" in various "Use of force" court cases researching the application of law and testifying for cases before judges and tribunals involving "wrongful death", "excessive force", and "adequate training".  This type of qualification is thoroughly scrutinized by the judges, attorneys, and law enforcement to insure that only the highest quality professionals and un-impeachable experts are permitted this status. Here you will find one letter of recommendation from an attorney testifying to the exemplary performance by Hanshi Pascetta in a 2004 court case.
In 2009, Hanshi Pascetta conducted training for the Military Police at Fort Meyer,
Virginia and received high commendations and recommendations from the law enforcement and military commanders and personnel there. Here you will see a letter of commendation from the Chief of Police for the military base.
In June 2011, Hanshi Pascetta organized and lead a security team performing a
personal protection detail (PSD) for the President of the Dominican Republic while he visited Philadelphia.  Due to the exemplary performance of Pascetta and his team, he has been invited to return to the Dominican Republic to train Law Enforcement and military there and will provide future security for the President whenever he visits Philadelphia.
Hanshi Pascetta is a licensed Enforcement Agent in the state of Pennsylvania, licensed to carry firearms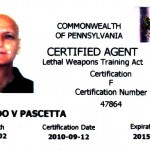 and other weapons of deadly force, and is also a Tactical Master instructor licensed to teach in police academies.  These licenses require thorough repeated investigations of present and past activity before being issued by the government agencies.
You will find other letters of commendation for world class performance from various Chiefs of Police, Prosecutors, Military and other law enforcement officials.  Hanshi Pascetta has also been chosen since 2001 to be a member of the Gloucester/Salem County Prosecutors' Security Initiative Committee for Homeland Security.  The County Prosecutors are the highest level of law enforcement officials in the counties of each state. This committee is an advisory group of the top Law Enforcement and Private Security Executives in the southern New Jersey area that meet monthly since 2001 for training and cooperation to prevent terrorism.
Membership and activity among any of these groups is reserved for only those professionals with the highest reputation and skills in the industry.  The letters of commendation and recommendation that have been awarded to Hanshi Pascetta are too numerous to list here and might readily bore the reader after a while.  The significant issue is that Shihan Pascetta's reputation and integrity are of the highest caliber and recognized at the highest levels of government in the United States and internationally.
As one can see, although Martial Arts has been the primary profession and focus of Hanshi Pascetta's professional career throughout his life, the qualities, methods, techniques, and philosophies of American GoJu Karate-do International have served him well in rising to the top in every endeavor, regardless of the profession.  Further, such broad experience has also served to provide a wealth of knowledge and awareness of that have helped to evolve Hanshi Pascetta's American GoJu Karate-do International system into one of the most realistic and practical methods of martial arts training.